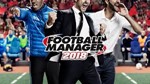 * INSTANT DELIVERY AFTER THE CONFIRMATION OF YOUR PAYMENT *

After payment of the order, the system automatically (without our participation) will instantly send you a link to the mail for access to the official activation key of the game - Football Manager 2018

Released: November 10, 2017
Languages: Russian
Region: Russia, Ukraine and CIS countries
Activation: Steam

They say that football is a very subjective game and everyone has an opinion. But only yours matters here.

Now you make all decisions: with whom to sign a contract, whom to transfer to another team, how to manage the budget. You can build tactics around existing players you have available, or, on the contrary, you can train and develop players according to your vision of the game. From who will play, and who will remain in the reserve, will depend on the teamwork of the composition. Every decision has consequences.

Make the right choice, and you will become a real star, will look from the front pages of newspapers and set trends in social networks. Your name will go down in football legends ... if you succeed, of course.

You will become part of the most realistic football world, you will have to make the most important decisions both on the field and outside it - it´s time to decide which manager you want to become?

Try your luck in 50 major soccer countries.
Win a title with one of the 2,500 best clubs in the world.
Work in the transfer market, choosing from 600 000 real players and representatives of the coaching staff.
See how your vision of football is embodied in your presence.
Activation:
1. Start the Steam client.
2. Go to the "Games" section and select "Activate on Steam".
3. Enter the activation key you purchased.
4. After that, the game will appear in your list of games and you can install it.
No feedback yet