Content: text (18 symbols)
Available: 8
Uploaded: 08.04.2019

Positive responses: 55
Negative responses: 0

Sold: 611
Refunds: 0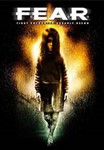 Release date: October 17, 2005
Age rating: 18+
Developer: Monolith Productions, Inc.
Publisher: Warner Bros. Interactive Entertainment
Publisher of the Russian Federation:
Localization: English
Activation system: Steam
Be a hero in your own cinematic epic with action, constant tension and horror. Mysterious paramilitary forces seeped into a multibillion-dollar aerospace project, capturing hostages, but without making any demands. The government responds by sending a team of special forces to destroy the threat. But the unknown massacre, which caused an inexplicable wave of destruction, tore the team to shreds. Having no other choice, the elite team of F.EAR was assembled. (Federal Unit for Aggressive Response) to deal with an emergency situation. Members of the squad receive one simple task: to assess the threat and eliminate intruders at all costs.
F.E.A.R. Extraction Point (Extraction Point) Extraction Point begins where the first part of the game has ended - with the crash. Because of him, the FAAAR team. forced to look for alternative points of evacuation, all the way to which it is necessary to fight with the liberated Alma and her paranormal minions, making their way through the jungles of the destroyed city.
F.E.A.R. Perseus Mandate (Project Perseus) While the first team of FEAAR. and Delta squad are fighting for control of the situation, the second team F.EAR. should make some clarity in the dark past of the corporation Arkham Technology. As a member of the second FEAR team, you were involved in order to obtain more information about the corporation´s secret project. The multi-user component of this add-on is no longer available.
16.04.2019 19:44:36
веригрудь
25.03.2019 21:24:57
Всё хорошо))
29.12.2018 0:18:15
Купить Игру со всеми дополнениями за копейки ) это круто )
26.12.2018 7:43:03
worked
24.12.2018 14:35:19
Спасибо, ключ получил.
20.10.2018 19:45:53
Very good
13.10.2018 21:16:18
Key worked. Thank you very much! :)
29.08.2018 13:53:45
Все отлично советую)
25.08.2018 16:06:05
Товар получил. Всё соответствует описанию
24.08.2018 16:56:10
моментальный ключ
07.08.2018 22:39:05
ok ;-)
22.07.2018 15:05:19
Ключ получил моментально, всё активировалось. Спасибо.
12.07.2018 17:27:18
все пришло спасибо
10.07.2018 17:06:05
СПС активировал!
30.06.2018 19:36:20
Спасибо)
24.06.2018 18:47:36
Молодца)
18.06.2018 20:05:45
Спасибо.