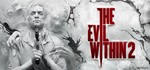 The brainchild of Shinji Mikami, The Evil Within 2 - a new word in the genre of survival horror. Detective Castellanos lost everything in life. To save his daughter, he must descend into the full nightmares of the depth of STEM.

- A story of salvation. Return to the world of nightmares in order to survive and save your loved ones.
- Creepy nooks of a nightmare world.
- Keep in suspense opponents.
- Find your way of survival.
- A terrible mishmash of parts of bodies and anxious anticipation.
attentionActivation is available for the following countries:
Russia, Ukraine, the Republic of Belarus, Kazakhstan, Armenia, Azerbaijan, Georgia, Kyrgyzstan, Republic of Moldova, Tajikistan, Turkmenistan, Uzbekistan. </ Attention>

Game activation instruction:
1. If the Steam client is not installed, download and install it.
2. Log in to your Steam account or register a new one if you do not already have one.
3. Select "Activate via Steam ..." in the "Games" section or click "Add game" in the lower left corner of the application and select "Activate via Steam ...".
4. Enter the activation key that you bought from us.
5. After that, the game will be displayed in the "Library" section, and you will be able to download the game.
29.07.2018 13:20:00
поначалу попался нерабочий ключ, но в течение пары минут разобрались и заменили на рабочий.
26.07.2018 13:38:48
Всё хорошо и без проблем
25.07.2018 19:01:40
после небольшой проблемы все решилось,благодарю )
27.06.2018 22:44:16
После небольшой заминки все решилось и подошло, получил бонус. Хороший продавец.