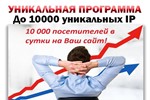 I propose a program through which you can daily receive traffic to sites up to 10,000 per day from unique IP, thus raising behavioral factors.

________________________________________________________________________

Main features of the program:

➨ Transitions inside the site;

➨ Up to 10,000 unique IP (from 90 countries of the world).

➨ Visitors from different sites; .

➨ Hourly traffic distribution throughout the day.

➨ Clicks on the links on the site (including advertising).

➨ Clicks on pop-up windows.

➨ Depth of page view is any (from 1 - 4 pages to one site added).

➨ Time to view the pages (from 10 seconds to 300 seconds).

➨ Up to 10 sites at a time (meaning 10 URLs, you can have completely different URLs from different sites, but not more than 10).

➨ Any sources of visits.

➨ Calls from any search engines (by keywords) and from various sites.

➨ Set up a smooth increase in traffic, so that there is no suspicion of the search engines.

➨ ➨ Even such a counter as liveinternet (Leifinternet) does not write off visitors, accepts traffic as white;
After payment you will receive a link for downloading the program. I render assistance (if it is required)
For a positive feedback discount You will no longer spend money on the promotion of your site. just run the program and all!
No feedback yet