Content: text (0 symbol)
Available: 0
Uploaded:

Positive responses: 5
Negative responses: 0

Sold: 28
Refunds: 0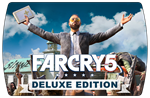 Immediately after payment, you receive a unique key for activation on Uplay

You can activate the game in the following countries: Armenia, Azerbaijan, Belarus, Georgia, Kyrgyzstan, Kazakhstan, Republic of Moldova Moldova, Russia, Tajikistan, Turkmenistan, Ukraine and Uzbekistan.

Composition of edition Deluxe Edition
******************

• Game FAR CRY 5
• A Digital Deluxe kit that provides early access to some types of equipment, vehicles and consumable items that will prove very useful in resisting - fighting against the Gate of Eden Project. ◦The HUNTER kit includes: a hunter´s composite bow, a hunter´s quad bike and a hunter´s suit.
The set of "LETCHIK-AU" includes: pistol asa 1911, helicopter ace and suit pilot-ace.
The set "DIVERSANT" includes additional consumable items: dynamite (x4), C4 (x4), grenades (x4) and non-contact mines (x4).
The set of "Chaos" includes additional expendable items: reinforcement "Speed" (x4) and "Rage" (x4), Molotov cocktails (x4) and bait (x4).
Assault rifle AR-C and pistol. 44 Magnum with unique coloring.
05.05.2018 19:24:36
Спасибо, всё оперативно )
06.04.2018 12:08:11
Активировал, спасибо!
31.03.2018 14:23:56
все ок!
27.03.2018 16:32:30
Спасибо, установил.
27.03.2018 12:05:05
всё здорово, быстро и недорого