Content: text (0 symbol)
Available: 0
Uploaded:

Positive responses: 10
Negative responses: 0

Sold: 72
Refunds: 0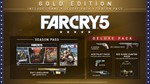 Immediately after payment, you receive a unique key for activation on Uplay

You can activate the game in the following countries: Armenia, Azerbaijan, Belarus, Georgia, Kyrgyzstan, Kazakhstan, Republic of Moldova Moldova, Russia, Tajikistan, Turkmenistan, Ukraine and Uzbekistan.

The action of the new game from the famous series Far Cry takes place in the USA.

Welcome to Hope County, Montana. This picturesque corner has become the home of people who truly value freedom ... and even for a sect of religious fanatics called the Project "The Gate of Eden." The sect is led by Joseph Sid, who considers himself a prophet, along with his brothers and sister - the so-called Messengers. The sect tries to regulate all aspects of life of the inhabitants of the district, where once the peace and tranquility prevailed. Arriving in Montana, your hero sees that representatives of the Gate of Eden are preparing to establish full control over the region. You have to unite the people of the district and awaken their will to fight for freedom.

You will be able to explore the expanses of Hope County, including rivers and airspace, using a variety of types of modified weapons and transport - such a diverse range of equipment in Far Cry has not yet been! You will find yourself in the middle of an exciting history in an unpredictable world that reacts to all your actions. Each new place you visit and the people you meet will have a significant impact on the development of events. Many surprises await you!

COMPOSITION OF THE PUBLISHING:
- Game FAR CRY 5
- SEASON PASS: Get the maximum of impressions from FARCRY® 5 in place with SeasonPass, which provides access to additional stories, tasks and equipment.
- A set of Digital Deluxe, providing early access to some types of equipment, vehicles and expendable items, which will prove very useful in resisting the fight against the Gate of Eden Project.
- The set "HUNTER" includes: a composite hunter´s bow, a hunter´s quad bike and a hunter´s suit.
- The set of "LETCHIK-AU" includes: pistol aka 1911, helicopter ace and a suit of pilot-ace.
- The set "DIVERSANT" includes additional expendable items: dynamite (x4), C4 (x4), grenades (x4) and non-contact mines (x4).
07.05.2018 21:40:59
Great seller, fast delivery!
21.04.2018 23:06:16
спасибо ключ активировал все работает были проблемы но ключ заменили продавец добросовестный удачи вам в продажах!!!
11.04.2018 7:00:07
Очень хороший сайт, надежный, и в поддержке люди очень приятные, рекомендую!
08.04.2018 21:26:14
Все гуд, утром деньги, тут же стулья! без всяких каких то проблем. Спасибо!
07.04.2018 12:08:35
Спасибо. Всё получил, скачавается. Какие-то бонусы положены?

04.04.2018 16:23:40
Оплатил. Тут же получил ключ. Игра уже скачивает. Можно мне бонусный купон? :)
31.03.2018 14:39:45
Купила две игры сразу (для себя и друга). Все получили, все хорошо.
Спасибо :)
30.03.2018 16:42:48
Быстро и четко! Спасибо продавцу!
27.03.2018 20:50:14
Все получил и актевировал сейчас качаю продавец супер