Content: text (0 symbol)
Available: 0
Uploaded:

Positive responses: 6
Negative responses: 0

Sold: 44
Refunds: 0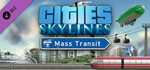 LICENSE KEY FROM DLC Cities: Skylines - Mass Transit DISPLAYED IN THE BROWSER WINDOW AND COME ON YOUR E-MAIL AUTOMATICALLY AFTER PAYMENT !!!

Platform: PC
Activation: Steam
Language: Russian, English, German, Spanish, French, Portuguese, Polish
Regional restrictions: Russia, Ukraine and CIS countries

ATTENTION! To activate this add-on, you must have activated the main game Cities: Skylines!-------------------------------- -
GIFT!!! WRITE A POSITIVE FEEDBACK WITH WORDS "WANT A GIFT" AND FILL THIS MESSAGE (in the CORRECTION tab on the order page of Oplata.info), AFTER WHAT YOU WILL GUARANTEE OBTAIN A RANDOM, INCREASING GAME IN STEAM.
 
If you have not written to the seller, then do not be offended when the gift you do not get.
--------------------------------- </ attention>
Short description:

Mass Transit is a new addition to the award-winning Cities: Skylines from the Colossal Order studio. It includes several new transport systems designed to help your citizens in their travels around the city. Your residents will be able to cross rivers, climb mountains and even above the clouds thanks to ferries, monorails, cable cars and airships.
Together with new service buildings, transport hubs, as well as new attractions and types of roads, players will have more opportunities to develop their own cities, adding to them a unique style and charm.

Features of the supplement:
So come the mundane money
- Implement new transit systems in your city and earn more money! Your citizens will be happy with new ferries, dirigibles, cable car and monorails!
The intelligent hub resolves
- New hubs, which combine several transport systems, will allow your citizens to change from line to line, or change from bus to ferry, and so on
Become a road scientist
- Investigate a set of new tense scenarios dedicated to solving the problem of congestion and the creation of new transport systems. New types of roads, bridges and canals will add diversity to your city, and new ways of solving your problems. Become an expert on traffic and use this knowledge to improve your own cityThis key is distributed by digital distribution. And does not have boxes and disks. </ Delivery>
Activation:
- Login in your Steam account
- Go to the "Games" and select "Activate via Steam"
- Enter the activation key
07.06.2018 14:14:57
Всё ок
05.06.2018 20:07:46
Ключ работает, все ОК! Продавец молодец! Хочу теперь подарок!
31.05.2018 0:28:47
КЛЮЧ ПРИШЕЛ ! ХОЧУ ПОДАРОК
28.05.2018 18:54:51
Спасибо за отличную цену. Оплатил - сразу получил ключ. активация прошла. Если можно - хочу подарок)))!!!
30.04.2018 13:31:15
Купил, все работает
30.04.2018 13:10:45
дали ключ, все ОК. Хочу теперь подарок!