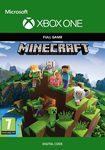 Minecraft is a great opportunity to create your own world. The gamer can access a wide variety of materials, as well as living beings, with which he can populate the space. You can just give vent to your imagination, reconstruct a famous landmark or even a historical event - the game does not limit a person´s opportunities. The only thing worth remembering is that at night in the new world uninvited guests can appear, and you need to take care of protection from them ...

Features:

MULTI-USER MODE
It´s interesting to create worlds, and most, and in a good company it becomes an incredibly exciting activity. Players can combine their efforts or compete, competing in the beauty of the result. To enable multi-user mode, you need a TV with Full HD resolution or more - when you use it, the screen splits without losing the clarity of the image.

SIMPLE GETTING OF THE GAME
To download the application does not need to buy additional storage media. Just enter the 25-digit code on the xbox.com/live page - these conditions apply to all users over the age of 13 who have an active account in Xbox Live.
To activate the game:
- go to the website
http://www.xbox.com
;
- Click the "Sign In" link in the upper right corner;
- log in with your account;
- go to "Manage Profile";
- Select "Redeem Prepaid Card";
- Enter the code you purchased.
06.08.2018 19:37:09
Всё получил. Спасибо:)