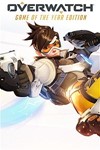 Activation region: Region Free!

Composition of the edition:
- 10 additional containers, each of which - a random set of items to give your characters an individuality. In containers you can get visions, emotions, triumphant postures, replicas, sprays and the best moments of matches, as well as an in-game currency that can be spent to replenish the collection.
- 5 guises Origins - Overgrown Bastion, Rice of Blackwatch, Pilot Tracer, Commander Morrison,
- Head of Farr´s security; Hero Hero (the Heroes of the Storm);
- companion Baby Winston (World of Warcraft);
- Overwatch card (Hearthstone);
- Angel wings (Diablo III);
- Portraits (StarCraft II).

About the game:
Fight on the battlefield of the future! At your disposal are many different heroes: soldiers, scientists, adventurers and just eccentrics. Spend time, break the laws of physics and attack the enemy with all the power of amazing abilities and the latest weapons. Fight in the most unexpected and recognizable places on the planet!
Game activation instruction:
1. Download the Battle.net client from the official site and install;
2. After installation, enter the login and password from your account, (or create a new one and log in to your account);
3. Activate the activation key received after purchase.
No feedback yet