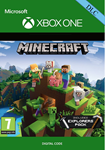 Activation region: Global!

Composition of the supplement:
- Chinese Mythology Mashup;
- Natural Texture Pack;
- Biome Settlers Skin Pack;
- Battle and Beasts Skin Pack;
- Campfire Tales Skin Pack.
Code activation:
1. Go to the website
http://www.xbox.com
2. Click Sign In in the upper right corner.
3. Enter your details and go.
4. Go to the Manage Profile.
5. Go to Add Microsoft Points
6. Select Redeem Code and click Next.
7. Enter the Prepaid Code.
No feedback yet