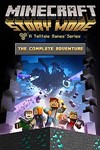 Story Mode Complete Adventure includes:
- All five episodes of the first season;
- All three episodes of adventure.

About the game:
Playing "Jesse", you will go on a dangerous adventure through Paradise, through the Nether, to the very edge of the world and beyond. You and your friends serve the legendary Order of the Stone: Warrior, Redstone Engineer, Boundless and Architect; Killer of the Dragon Ender. While in EnderCon, in the hope of meeting the Warrior Gabriel, you and your friends will understand that something is wrong ... What happened is something terrible. Horror is released, and you must go in search of the Order of the Stone, if you want to save the world from oblivion.

Code activation:
1. Go to the website
http://www.xbox.com
2. Click Sign In in the upper right corner.
3. Enter your details and go.
4. Go to the Manage Profile.
5. Go to Add Microsoft Points
6. Select Redeem Code and click Next.
7. Enter the Prepaid Code.
No feedback yet