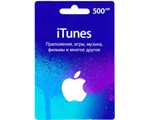 !! INSTANT DELIVERY !!

After payment of the order, the system will automatically send you a link to download the license key for replenishing the Russian iTunes AppStore account by 500 rubles

Attention! This card can be replenished only account iTunes Store, App Store, iBookstore and Mac App Store Russia (only Russia, and only in rubles replenishment, not suitable for US and other regions)!

The iTunes account allows you to download any songs, movies, games, programs for your PC, MAC, iPhone or iPod from the US App Store

The term of accounts is unlimited and the money on it is not burned.
To activate on your Mac or PC:
1. Open iTunes and go to the "iTunes" store.
2. Click "Activate".
3. Enter the purchased code

To activate on your iPhone, iPod touch or iPad:
1. Go to the "iTunes" store.
2. Go to the "Music" section and go to the end of the section.
3. Click Activate.
4. Enter the purchased code
11.01.2019 1:12:42
Thanks
28.12.2018 13:45:23
Все ок
23.11.2018 19:51:39
Все хорошо
12.06.2018 14:11:57
+++++ http://www.addwm.com
15.05.2018 17:19:43
+++++ http://www.addwm.com