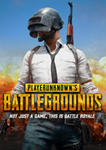 Activation region: RU!attentionYou can change IP to Russian, you need a VPN for this, and you can activate the code. If you are not in Russia. </ Attention>

About the game:
PLAYERUNKNOWN´S BATTLEGROUNDS is a shooter in which the last survivor wins. Starting the game with nothing, you have to get weapons and supplies to fight for the first place and become the last hero. The intense battle in this realistic game takes place on the huge 8x8 kilometer post-Soviet Black Sea island of Erangel. PLAYERUNKNOWN´S BATTLEGROUNDS is developed on Unreal Engine 4 with constant help and support from our players.

It´s not just a game. This is the Royal Battle!
Game activation instruction:
1. If the Steam client is not installed, download and install it.
2. Log in to your Steam account or register a new one if you do not already have one.
3. Select "Activate via Steam ..." in the "Games" section or click "Add game" in the lower left corner of the application and select "Activate via Steam ...".
4. Enter the activation key that you bought from us.
5. After that, the game will be displayed in the "Library" section, and you will be able to download the game.
24.07.2018 17:07:51
Все замечательно,в течении 15мин получил код)
24.07.2018 1:55:20
Немного напрягся, но через 5 мин все получил, спс)
23.07.2018 21:53:28
всё гуд.
22.07.2018 12:17:21
Very good seller
16.07.2018 19:56:25
Activated
THx
14.07.2018 4:31:45
Товар получен быстро
14.07.2018 1:41:38
Ключ верный, но очень долго шла проверка платежа почему-то и не сразу ключ высылали.
13.07.2018 13:37:19
all good
11.07.2018 5:55:45
Spasibo ;)