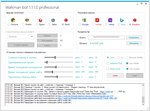 Walkman bot professional - the automated emulator of actions of the real person in search systems, services, sites. The main purpose of the program - the promotion of low-frequency requests in search engines, increasing the position of promoted sites in search results by behavioral factors. Walkman bot has a friendly, and understandable interface, accessible to users who do not have special skills. Emulation of user activity on the site is reflected in Google Analytics, and Yandex Metrics, and is considered by search engines.
Equipment requirements.
Windows 7 and higher
Operative memory 2 Gb and more
Before buying, think carefully about your decision, the goods can not be returned, this is a private application.
21.07.2018 16:03:36
Софт не запускается.
под этим предлогом автор просит доступ к моему серверу или более того чтобы установил на свой домашний компьютер (может сразу денег скинуть?) чтобы снифать мой трафф /темы

манибек отказывается делать

про неадекватность автора слышал еще на форуре хрумера, но не думал что будет кидать так с неработающим софтом