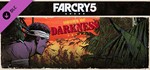 📌 Description:
In the first Far Cry®5 DLC, experience the first war-based Far Cry adventure. Trapped behind enemy lines, you must survive war-torn Vietnam to take down Viet-Cong. Will you be able to rescue your squad mates and evacuate to safety?
FIRST WAR-BASED DLC: Live the experiences of Hope County's resident Vietnam veteran Wendell Redler, as you escape from behind enemy lines to get to safety.
UNIQUE WEAPONS AND NEW SKILLS: Explore a Vietnam warzone, armed with new abilities, gear, and skills like your all-new "Survival Instinct".
NEW MODES UPON COMPLETION: Completing Hours of Darkness unlocks new modes, giving players a reason to return to Vietnam.
🌎 Regional restrictions: RU / CIS (Russia and CIS)
⚙️ Activation system: Uplay
🕹️ Activating the game:
1) Download and install Uplay -
http://ubi.li/4vxt9
(if not already installed).
2) Register a new account in Uplay or go to an existing one.
3) Go to the "Games" section, select "Activate product" and enter the key received immediately after payment.
4) After activation, the game will appear in the list of games, and you can download it from Uplay.
🦄 If everything went well, please leave a positive feedback, and we will in turn send you a bonus coupon for the next purchase :)
If you have any questions, we will be happy to help.
11.12.2018 19:31:21
Все ок
16.06.2018 18:57:13
Все пришло!Возникли некоторые проблемы, но продавец быстро ответил и все уладил!