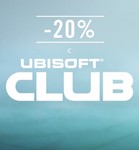 By purchasing this product you get a guaranteed 20% discount on the purchase of any Uplay game.

In order to activate the coupon, please follow these steps:
1. Choose the game you would like to buy (or purchase according to the terms of the promotion)
2. Go to payment and click on the "Add a promotional code" option. Enter the promotional code in the appropriate field and click "Apply"
3. Click on the button "Payment", complete the ordering and enjoy the game!
Please keep in mind that on the website of the Ubisoft store, the promotional code will not be valid at the time of buying the in-game currency and we can not guarantee that the code will work if other offers or discounts are valid for the product you selected.
31.07.2019 8:15:28
отлично)
26.07.2019 18:14:51
все отлично и быстро.Экономить приятно с такими ценами.