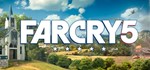 Activation region: Russia and the CIS!

Composition Far Cry 5 - Deluxe Edition:
- Basic version of the game Far Cry 5;
- A set of "Hunter";
- A set of "Pilot-as";
- Set "Saboteur";
- Set of "Chaos";
- AR-C and .44 Magnum with special coloring.

About the game:
This time the action of the famous Far Cry series takes place in America.
Welcome to Montana - Hope County - the land of free and courageous, captured by the fanatics of the Gate of Eden. Resist Joseph Sid and his supporters. Kindle the fire of resistance.
Go to the US, crush the sectarians alone or with a friend, but beware of the wrath of Joseph Sid and his followers. Create a unique character! Use a variety of techniques in the fight against sectarians.

UPDATED STEEL OF MECHANICS
The game is even more interesting if the game tracks eye movements. By marking the enemy with a glance, you can improve stealth skills and help your team members discover enemies.
The technology is compatible with all Tobii Eye Tracking gaming devices.

Additional Information:
Eye tracking functions are available in the Tobii Eye Tracking devices.
Activation in Uplay service:
1. Register your account at
http://uplay.ubi.com/
, if you do not already have one
2. In your account via the button-gear, activate the product by entering the key
3. The game will be added to your games library and you will be able to download it.
No feedback yet