Content: text (16 symbols)
Available: 1
Uploaded: 24.08.2018

Positive responses: 3
Negative responses: 0

Sold: 5
Refunds: 0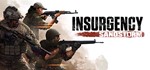 Insurgency: Sandstorm (region of Russia)
After payment, you will receive a unique code that you need to inform us (the fact of confirmation of your payment).
We will send you an invitation to friends in steam and transfer the Insurgency: Sandstorm to your account in the form of a gift.
- Send the game we can, if the "store region steam" you have "Russia".
- - This item can not be placed in inventory, you can only activate it on your account.
- Delivery is carried out in manual mode (but quickly).
11.09.2018 0:03:17
Покупкой доволен, всё прошли достаточно быстро.
24.08.2018 20:04:39
Всё прошло успешно очень рад что получил игру