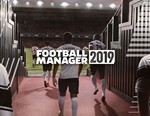 * INSTANT DELIVERY AFTER THE CONFIRMATION OF YOUR PAYMENT *

After payment of the order, the system automatically (without our participation) will instantly send you a link to the mail for access to the official activation key of the game - Football Manager 2019
+ pre-order bonus Football Manager 2019 Touch for PC / Mac

Release date: November 2, 2018
Languages: Russian
Region: Russia, Ukraine and CIS countries
Activation: Steam

You can register a preliminary order for Football Manager 2019 now. Having done this before the official release of the game on November 2, you will receive a price lower than it is likely to be after the game is released.

In addition, you will have access to a full-featured beta version, which should be available at least two weeks before the official release of the game. Your success in a single career, started in the beta version, will be transferred to the full version of the game.

If you purchase Football Manager 2019, you will also get free Football Manager 2019 Touch for PC / Mac.

In Football Manager 2019, you take responsibility for the success of the club, determining the tactics and style of the game and collecting the best team of dreams from the best players. You will take an active part in the training of players, preparing them for the upcoming matches.

And when the tour of the championship comes, you will take your place on the edge. Holding the players on the field, you will follow the match, which will be a real test of your football talent!

After all, any replacement and change in game tactics can cause both spectacular victory and shameful defeat.

Test your skills in 50 major soccer countries.
Rise to the top of the rating tables, leading any of the 2500 best football clubs
Play in the transfer market, choosing from 500 000 real players and representatives of the coaching staff
Watch how your vision of football comes to life with the help of our famous three-dimensional engine
Bundesliga and Bundesliga 2 received all necessary licenses and are available in the season 2018/19. They will give an idea of ​​what awaits you in the new season from November 2.

In total, you have 26 fully licensed championships in 11 countries, as well as licenses for individual clubs in the largest leagues in the world. And this is only the beginning.
Activation:
1. Start the Steam client.
2. Go to the "Games" section and select "Activate on Steam".
3. Enter the activation key you purchased.
4. After that, the game will appear in your list of games and you can install it.
No feedback yet