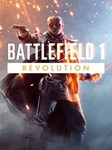 * IMMEDIATE DELIVERY IMMEDIATELY AFTER CONFIRMATION OF YOUR PAYMENT *

ATTENTION! After the purchase, you can absolutely get a random (random) game activation key under Steam. JUST LEAVE POSITIVE FEEDBACK for the goods with a request to send a bonus, and within 2-4 days the key will be sent to the email you specified when purchasing!

After payment of the order, the system automatically (without our participation) will instantly send you a link to access the official activation key for the game: BATTLEFIELD 1 REVOLUTION EDITION

Genres: Action and Shooter
Languages: Russian, Polish
Region: Region free (all countries)
Activation: Origin
Release date: 10/21/2016
Publishers: Electronic Arts

ATTENTION! Revolution Edition includes Battlfield 1 and Battlefield 1 Premium Pass:

Four thematic additions with new network cards, new weapons and other things. Early access to additions that have not yet been released (two weeks before the release).
Battlefield 1 "They will not pass": hardened veterans of the French army that there are forces to defend their homeland.
Battlefield 1 "In the Name of the Tsar": find yourself on the largest front of the First World Frosty Winter together with the Russian army.
Battlefield 1 "Waves of Change" participate in the amphibious operations of the First World War.
Battlefield 1 Apocalypse: Go to victory at any cost in the most notorious battles of the First World War.

Also included are:
14 outstanding Battlefield 1 combat kits with unique looks for weapons every month, starting in November 2016. By purchasing a Premium Pass, you will retroactively receive all the combat kits that have been issued to subscribers since November 2016.
14 unique tokens issued during the duration of Battlefield 1 Premium Pass.
Priority in the queues to the server.


Battlefield ™ 1 immerses you in the era of the First World War, when new technologies and global conflict forever changed the principles of military affairs. Participate in every battle, drive every huge machine, perform maneuvers that change the outcome of the whole battle. The whole world is in the grip of war. Find out what awaits you on the front line.
Key activation:
1. Download and install the Origin program (
http://www.origin.com/download
).
2. Run Origin.
3. Select the interface language and the place where the game will be installed.
4. Go to "Origin-Activate Product Code."
5. Enter the key. After that, the game will appear in the library of games, where you can download and play it.
Minimum system requirements:
OS: 64-bit Windows 7, Windows 8.1 and Windows 10
Processor: AMD FX-6350 / Intel Core i5 6600K
Memory: 8 GB RAM
Graphics: 2 GB VRAM - AMD Radeon HD 7850 / NVIDIA GeForce GTX 660
Hard Drive: 50 GB HD
15.11.2018 11:45:39
Всё получил, уже качаю, все дополнюшки, спасибо

08.10.2018 22:48:37
very gooooooood !!!