Content: text (0 symbol)
Available: 0
Uploaded:

Positive responses: 3
Negative responses: 0

Sold: 26
Refunds: 0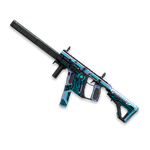 Warface is a free multiplayer online shooter developed by the world famous company Crytek.

Combat effectiveness
Kriss Super V Custom is a unique submachine gun in the range of the engineer.

The submachine gun retained all the advantages of the Kriss super V, added to the parameters and got unique modules. Of course, it has a great appearance, which attracts the views.

Virtues
• High damage.
• Good range.
• Good shooting rate.
• Good hip accuracy.
• Good shooting accuracy in sight.
• Low recoil.
• Three modification slots with a wide range of equipment.


After the purchase you get:
✅ Kriss Super V Custom Syndicate (6 hours)

Delivery: Electronic PIN activation code in text form (XXXXX-XXXXX-XXXXX-XXXXX-XXXXX).
1. After payment, within 10 seconds you are automatically transferred to the page with the purchase, where you receive your goods.
2. Also after payment you will receive the goods you purchased by mail which you specify when purchasing.
Delivery time: Instant emailing.
Game: Warface
✅ Activate until: 08/01/2019
Activation:
1. If you are not yet registered in the game, then go through the registration first.
2. Activate it on the game website:
https://wf.mail.ru/pin/activate
3. Enter the code in the code field and click "Activate".
ATTENTION!!! This code is intended for activation only on RU servers.
We recommend to activate within a month.
28.10.2018 20:13:58
от души за комуфляж
19.10.2018 13:35:02
Очень хороший продавец! Рекомендую
15.10.2018 14:47:38
Отлично! рекомендую данного продавца! купил 3 скина, все круто!