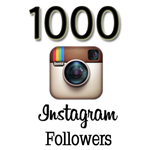 Details:
- Bots
- With avatars and publications
- Medium quality
- Write-offs during and after the wrap-up
- Good speed
- Quick Start
To promote your account you need:
a) Have at least 3 posts in the profile
b) Profile must be open
Immediately after payment you will receive a form to fill in the registration data, in which you will need to fill in the following fields:

- Email address (email);
- link to your instagram profile;
Data will be transferred to the seller to promote your account!
17.03.2019 15:38:03
works
04.03.2019 22:24:17
He is legit. Nice
02.03.2019 21:37:44
Super legit

07.02.2019 13:25:31
good seller great service
06.02.2019 7:43:22
grate product
02.02.2019 11:48:34
отлично, заказ пришёл!
22.01.2019 14:29:31
Fast service thanks :)
23.11.2018 0:07:21
Довольно быстро(до часа) пришли мои 730\500 подписчиков даже больше спасибо
16.11.2018 22:04:44
Довольно долго пришлось ждать но я заказал вечером продавец был только от 22:00 а результат на след. день !
13.11.2018 0:02:31
good shop