Content: text (29 symbols)
Available: 606
Uploaded: 06.12.2018

Positive responses: 19
Negative responses: 0

Sold: 1621
Refunds: 0

Seller: Peaky_Blinders
information about the seller and its items
Loyalty discount! If the total amount of your purchases from the seller more than:
| | | |
| --- | --- | --- |
| $1 | the discount is | 1% |
| $5 | the discount is | 3% |
| $10 | the discount is | 5% |
| $50 | the discount is | 7% |
| $100 | the discount is | 10% |
| $500 | the discount is | 12% |
| $1000 | the discount is | 15% |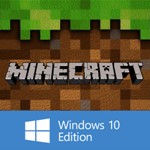 DESCRIPTION:
Build a variety of buildings: from quick shelters to grand castles! Create and explore your own world, limited only by the limits of your imagination, but do not forget to build a shelter before the night comes to protect against monsters. Find materials and make tools, accessories, food and weapons that will help you survive. During the existence of the game, millions of players around the world have broken billions of blocks - and now you can join the army of fans of this cool game on your Windows 10 device!

FEATURES:
• Now you can in multiplayer mode play on a local network with 4 friends using Minecraft: Pocket Edition on devices with different platforms.
• Play the beta game in online multiplayer mode with 4 Xbox LIVE friends, wherever they are.
• Improve your equipment with special effects applied to the tables of enchantments.
• Switch between your favorite input methods without any problems - you can activate and start using a controller, touch screen or mouse with a keyboard in seconds.
• Record your achievements and share them online using the Xbox Live "Game DVR" app.
• Use unlimited resources in "Creative Mode" to build everything you can imagine.
• Get valuable resources, make tools, take part in exciting adventures and defend against night creatures in "Survival Mode".
• Immerse yourself in a huge world with new, improved weather effects — accumulating snow, softer transitions, and even SNOW THREAT.
• The game also includes chickens, zombies, pigs, boats, armed skeletons, potatoes, squid cubs, enchanted items, villagers, naked sheep, iron golems, potions, pastas, picks, carrots, and much, much more.

Note. For the sake of clarity, we inform you that worlds / save files from the Minecraft version for Java PC / Mac are incompatible with the Minecraft version for Windows 10!
By purchasing this product you instantly get the Minecraft key: Windows 10 Edition for Microsoft Store.
Delivery of goods is carried out to your mail immediately after payment.
If you have any questions, you can ask them in the "Correspondence with the seller" or in the chat.
14.12.2018 19:24:06
Всё есть
14.12.2018 17:13:00
Все работает
14.12.2018 15:48:21
Спасибо за товар ! Всё работает
04.12.2018 17:40:07
Прислали активированный ключ, но через некоторое время заменили, спасибо!
Вот вам промокод: 4DBAB9FE919E412C
03.12.2018 13:18:02
Excellente
02.12.2018 19:08:31
+rep :D
02.12.2018 11:09:51
все ок, все работает, проверил уже 3 ключа, спасибо!
02.12.2018 10:19:59
Удевлён что работает !!
Так дёшево!
Всё очень круто!
01.12.2018 18:30:38
Всё отлично работает, не понимаю в чём подвох за 10 руб.
30.11.2018 20:26:39
Все класс супер!!!))) Покупайте все советую
30.11.2018 16:52:00
Все отлично, товар пришел мгновенно
29.11.2018 18:01:48
Ключ пришел моментально. Плюс получил промокод.
28.11.2018 18:53:01
Thank you, the 2nd code you sent was redeemable :)
28.11.2018 13:54:48
Great! I´m playing it right now, thanks seller ;)
25.11.2018 21:44:52
спасибо огромное!, моментально!