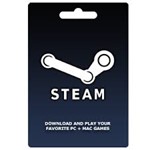 !! INSTANT DELIVERY IMMEDIATELY AFTER CONFIRMATION OF YOUR PAYMENT !!

After payment of the order, the system automatically (without our participation) will instantly send you a link to access the official account recharge key (Wallet Balance) on Steam for 3.27 $ US - this is equivalent, the card is not a dollar one! If your account is in a different currency, this amount will be converted at the current exchange rate.

The key has no territorial restrictions and can be activated in any country!
Activation:
- Log in to your Steam account
https://store.steampowered.com/account/redeemwalletcode
- Click the link to the "Your username" account in the upper right corner and you will be directed to your account.
- On the right side of your page about User Data there is a blue box that displays the current state of Wallet Balance.
- Directly under Wallet Balance, there is a link for entering the code from the card and crediting it to your Steam wallet.
Our reliability has been proven over the years:
* more than 7 years on the market!
* more than 100 thousand sales, more than 12,000 positive reviews!
* Webmoney (BL) business level is above 390!
* All our keys are only from official distributors!
* We take full responsibility for the goods sold by us and give 100% quality guarantee!
20.02.2020 16:28:17
gift card worked fine. thank you.
11.12.2019 13:58:08
Perfect!
11.12.2019 12:08:28
Perfect!
08.12.2019 13:09:01
Perfect!
08.12.2019 11:43:38
Perfect!
07.12.2019 12:03:23
PErfect!
07.12.2019 1:51:27
PErfect!
01.12.2019 11:36:37
Perfect!
23.11.2019 3:08:35
Perfect!
22.11.2019 22:51:47
Perfect!