Content: text (29 symbols)
Available: 5
Uploaded: 15.07.2019

Positive responses: 80
Negative responses: 0

Sold: 226
Refunds: 0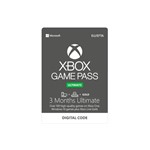 Code for XBOX GAME PASS ULTIMATE 3 months will appear on your screen immediately after payment, and will also be delivered to your e-mail, which was specified at the time of purchase.
Activation: Microsoft
Region: GLOBAL
List of available games:
https://www.xbox.com/en-US/games/xbox-game-pass
GIFT !!! Leave a positive review on your purchase with the words "I want a gift" and duplicate this message in the CORRESPONDENCE tab on the order page of Oplata.info so that I do not miss it. The key to an inexpensive, casual steam game will be sent as a gift.
Description:
The Game Pass Ultimate subscription includes Xbox Live Gold and unlimited access to more than 100 high-quality games for the console and PC.
When you purchase and activate the Xbox Game Pass Ultimate Xbox Live Gold and Xbox Game Pass subscriptions are automatically updated.
You can activate no more than one promotional subscription for each Microsoft account within 12 months.
Ultimate Subscription includes:
- Xbox Game Pass for Consoles
- Xbox Game Pass for PC
- Xbox Live Gold
This key is distributed by digital distribution.
ACTIVATION:
- Go to
https://www.xbox.com
- Sign in to your account
- Hover over the link of your account (in the upper right corner of the screen), a menu appears, click the "Activate code" button.
- On the next page, click "Redeem"
- Enter your code
- Click "Confirm"
- Click "Confirm" again to assign a key to your account.
How to redeem a code on Xbox One:
1. Sign in to your Xbox One (make sure you're signed in with the Microsoft account you want to redeem the code with).
2. Press the Xbox button to open the guide, then select Home.
3. Scroll right and choose the Store tab.
4. Choose Use a code.
5. Enter the 25-character code, then follow the prompts. Don't worry about hyphens, the system takes care of those for you.
15.07.2019 10:56:05
Купил подписку, все работает, спасибо! Всем советую!
14.07.2019 14:55:14
Отлично) код был мгновенно выслан на почту, все работает)
14.07.2019 14:19:41
Всё отлично, код пришёл моментально.
12.07.2019 17:32:36
Оплатил и сразу получил код. Уже качаю игру. Сперва боялся, но потом прочел отзывы о данном сайте, все ок. Остался доволен
08.07.2019 21:56:34
Великолепно ,получил что хотел моментально )
07.07.2019 19:46:57
Все отлично!
07.07.2019 18:44:13
Все работает, затупил сначала - продавец помог, подсказал, уже скачиваю игры ????
07.07.2019 17:08:44
Все отлично)
07.07.2019 12:12:23
Все работает. Спасибо
07.07.2019 9:14:40
Всё работает, аккаунт продлён и обновлён до Ultimate, спасибо.
05.07.2019 14:09:54
очень доволен покупкой все работает отлично и не надо будет покупать гирс 5
04.07.2019 22:48:07
Хочу подарок! Сначала засомневался в товаре, xbox game pass ultimate, да на 3 месяца, да всего за 1000руб грубо говоря! Но был приятно удивлен своей покупкой, теперь буду советовать вас знакомым
04.07.2019 18:35:26
Все хорошо.
03.07.2019 18:45:37
всё гуд
03.07.2019 14:55:39
Всё быстро и легко.
02.07.2019 12:17:07
Все отлично. Оплатил, получил код, успешно активировал в Российском microsoft store
02.07.2019 10:14:56
Все отлично, код работает, без VPN и всякого гемора. Спасибо!
02.07.2019 0:56:29
Спасибо все пришло!!!
01.07.2019 19:53:05
все работает
01.07.2019 17:21:28
Всё работает спасибо быстро и понятно!