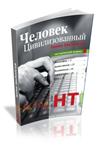 Start a new project is always difficult. Especially do not fit the situation. Especially overtaking modernity. But, nevertheless, from the messenger to publish the Academy, we are once again "go to the storm." After all, we all know that the extreme conditions not only to survive really allow the fullness of life, but also show their true skills and abilities, he reveals the world his divine essence.


More than thirty years of my life have been devoted to the creation and design of the Teaching Sunny Way. Over the years, has become a household to be on the crest of the wave, the more impossible to refuse the chosen one way. IMTA and HOMO TECHNICUS - a kind of intermediary, but certainly extremely important results of the work done. I must say that I am satisfied. We have something to share with you, dear readers, and we are happy to do it.


Therefore, the first issue of the quarterly bulletin, we have decided to devote an overview of what has been done in recent years. Everything published in this issue, and many other materials already available on the website of the Academy. In fact, before you a brief guide to the IMTA site. In the future we plan to publish articles on various topics, trying to observe the competence and objectivity of lighting problems.

Let us begin now to answer the question "What is IMTA?"


Sunny Way International Academy - a private educational institution established to carry out programs of additional education and acting on the basis of the Charter of the Academy. The educational program includes IMTA Academic Course "Teaching Sunny Road" as well as various training programs, seminars, workshops and master classes on topics of business and political schools. Classes are held according to the current schedule, the work group anyone can join at any time. (If you are under 18, you need written consent from a parent or guardian.) It is possible to hold classes in your area and their inclusion in the schedule, it is necessary to contact the organization department of the Academy, to determine the conditions and leave a request.


Teleworking IMTA planned format of the Open University. This means that the listener himself determines the time of its training regulations. For example: dates of the beginning and end stages of learning are determined independently, based on the needs and capabilities of the listener.


It is also possible, and independent learning, it is enough to buy teaching materials, published in the catalog on our website.


Welcome!

Sincerely, Michael Shchelkonogov.
No feedback yet