Content: stipendia_project_extended_version.zip (1.37 MB)
Uploaded: 05.05.2009

Positive responses: 0
Negative responses: 0

Sold: 0
Refunds: 0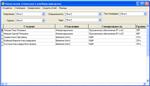 The program for calculating a scholarship in the school is designed to accommodate students and charging them monthly scholarships.


In charge of the scholarship program has 4 directory:

- Branch;

- Education;

- The type of scholarship;

- Group.


Before you start to charge scholarship students must complete all the appropriate directories as described above.


Also note that you can not delete the record from any of the directory if the data refer to any student. If you want to remove any entry from the directory, first delete all the students who apply to the information from the directory.


Accrual scholarship program solves the following problems:

- Save in the database the necessary information about the students and their scholarships.

- Edit and delete any information you entered in the database calculation scholarships in school;

- Filtration of information from students on the course and reference books;

- Reporting (after, you can filter only the desired record of the assessment scholarships).


Note. If you need examples of explanatory notes for the finished program in Delphi for accounting scholarships at the institution,

then email me and I will give the PP as a bonus to the source.


After purchasing the program accrual scholarship school (extended version) you get:
- Source code for delphi 7;
- Compiled program for the calculation of scholarships;
Download the program to introduce "Earning a scholarship in the school (extended version)» here:
http://fx2.devitnet.ru/456
No feedback yet