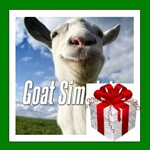 Goat Simulator - Steam Gift RU-CIS-UA

Warning: The game has territorial restrictions and can be activated only in one of the following countries: Russian Federation, Armenia, Azerbaijan, Belarus, Georgia, Kyrgyzstan, Kazakhstan, Republic of Moldova, Tajikistan, Turkmenistan, Ukraine and Uzbekistan.
23.07.2018 6:06:53
Огромное вам спасибо! Получил товар моментально!
01.02.2018 9:06:32
Спасибо, товар пришел быстро. Очень доволен
03.04.2017 17:46:54
!!!!ХОЧУ ПОДАРОК!!!!
Продавец красава, все прийшло, все работает!!!!!
10.03.2017 19:27:45
Быстро и надежно!Хочу подарок!