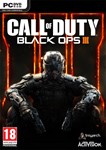 Activation of STEAM in Russia and the CIS.
Russian version of the game, the key from the disks 1C-Softklab.
Includes DLC NUKETOWN EDITION

Future. The time of the latest technologies that we create and improve every day, striving to maintain primacy in the arms race. Future. The time when the line between our own humanity and the power of machines and mechanisms that give us our strength is thinning out. The future is a world in which war has become different. The battlefield, where new generation Black Ops soldiers are entering the front line.
 
Call of Duty: Black Ops III offers three unique game modes: storyline campaign, competitive multiplayer and cooperative zombie mode Shadows of Evil. In other words, before you is the most ambitious, most diverse and most ambitious issue of the famous series.
09.10.2018 20:14:57
Спасибо.:)
30.04.2018 10:19:55
Отличный продавец
03.02.2018 20:31:49
Ключ пришел моментально. 5+
14.01.2018 20:20:26
Все отлично. Игру активировал.
30.12.2017 11:09:40
Игру получил быстро, все честно, спасибо!
29.12.2017 18:11:29
Ключ получил сразу после оплаты, без проблем активировал, спасибо!
29.12.2017 0:15:35
Всё хорошо. Игру активировал, спасибо!!!!
21.12.2017 22:21:50
всё гуд
05.12.2017 3:54:59
Товар получил, все отлично)
23.11.2017 19:30:02
Быстро и без обмана
18.11.2017 21:14:47
Все отлично! Спасибо)
16.11.2017 0:04:39
Настолько был поглощен своей покупкой у этого продавца, что написал этот положительный отзыв спустя шесть часов беспрерывной игры :)
25.02.2016 17:13:55
Все отлично! Спасибо))
22.04.2015 15:17:38
Все Ок :-) Спасибо