Content: text (21 symbols)
Available: 3
Uploaded: 17.04.2021

Positive responses: 53
Negative responses: 0

Sold: 344
Refunds: 0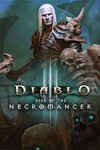 Return to the mortal realms with deadly new powers of blood, bone and essence. The Rise of the Necromancer Pack unearths a trove of new Diablo III content, including:
1) New Hero Class - Necromancer. Command legions of risen dead and wield the dark arts as the male and female Necromancer
2) +2 Character Slots. Support your growing roster of battle-hardened heroes.
3) +2 Stash Tabs. Expand your formidable collection of weapons, armor and gear across all heroes.
4) Wings of Crypt Guardian. Unfurl wings of deathly energies with any hero in your roster.
5) Half-Formed Golem Pet. Summon a Half-Formed Golem pet on the battlefield to fetch gold from your fallen enemies.
6) Banner Shape, Banner Sigil, and Pennant. Bear the heraldry of the Necromancer as you battle throughout the mortal realms.

Please do not forget to leave feedback after you have used the key. This will help other buyers to make the right choice, also you will receive a bonus card.
Play in any game region

Requires Diablo III: Reaper of Souls on Battle.net in order to play.

Requires internet connection, Blizzard account, and Blizzard desktop app to play.
23.02.2021 20:23:50
Всё топово ! Спасибо !
20.01.2021 20:58:47
Всё окей ! =)
30.05.2020 19:28:15
Спасибо купил Некра все быстро и честно
30.05.2020 4:24:13
Все супер, ключ активировался сразу же
23.02.2020 15:51:00
код пришел сразу после оплаты, активировал, все ок.
16.02.2020 21:13:31
Код получен.
Спасибо