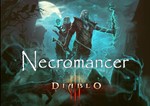 You buy Diablo 3: Return of the Necromancer.

Activation region: Worldwide

To run requires the presence of Diablo 3 Reaper of Souls!

DESCRIPTION OF THE GAME

Curb the magic of blood, bones and essences and return to the realm of mortals! The set "Return of the Necromancer" includes many new products for Diablo III:
1) The new class is a necromancer. In the guise of a priest or priestess of Ratma, you have to command hordes of rebel dead and sharpen your skills in the dark arts.
2) 2 additional character cells. Never hinder to have more battle-hardened heroes!
3) 2 additional cache tabs. Your magnificent collection of weapons, armor and equipment for all the characters will become even richer.
4) Wings of the crypt keeper. Any of your heroes can get wings from a deadly essence.
5) The new pet is half-naked. Summon the half-hegemony on the battlefield to collect gold from defeated opponents.
6) Emblem, flag and banner form. Fight in the mortal world under the banner of the Order of the Necromancers.
16.11.2018 22:52:00
Спасибо.
12.11.2018 20:39:01
Ключ пришел сразу. Активация так же не заставила себя ждать. Спасибо!
11.11.2018 17:45:54
Все отлично
07.11.2018 1:48:06
Все отлично! Через 2 минуты после оплаты создал некроманта.
31.10.2018 9:36:19
Отлично
31.10.2018 9:05:53
Годнота! Активация без проблем.
28.10.2018 2:02:49
Ключ пришел быстро, все работает. Спасибо большое!
25.10.2018 12:22:54
Спасибо, всё ок.
30.09.2018 17:37:35
Отлично, спасибо!
27.09.2018 20:52:41
Супер всё!
24.09.2018 11:55:43
++ активировал
лучшая цена
23.09.2018 9:04:06
Купил ключ. активировал . все честно и без обмана.
22.09.2018 19:35:07
Спасибо, ключ активировался мгновенно!
10.09.2018 12:00:52
товар получил сразу и ДЛС появилось моментально
спасибо
31.08.2018 21:31:03
Спасибо, товар пришел.
30.08.2018 13:11:09
Ключ подошёл, спасибо! Быстро и удобно)
24.08.2018 17:01:19
Всё работает) +